This dish is referred to as "Friday Pasta" around Birmingham. It is a local favorite. It is so popular that Taziki's had to start serving the pasta all weekend. Several years ago the recipe was published on al.com. I snagged it in case I ever wanted to make it.
For whatever reason, I only recently tried the Friday Pasta. We went to a birthday party and they served this cold/room temperature. Taziki's serves this pasta warm over lettuce in the restaurant. We both agreed that we preferred the pasta cold/room temperature and without the lettuce.
I decided to finally try… Continue reading →
When I started blogging back in 2007 I was having a lovely time experimenting with new flavours and ideas. It was only later I realised that I had forgotten to include the basics. I just took them for granted. Perhaps that is why I have posted a recipe for dark chocolate and cranberry shorrtbread and spiced chocolate shortbread but until today I have not posted a basic shortbread recipe.
It might also be that I find regular shortbread to be quite dull. Maybe it was not always so. I blame my current disdain for shortbread on the months I spent… Continue reading →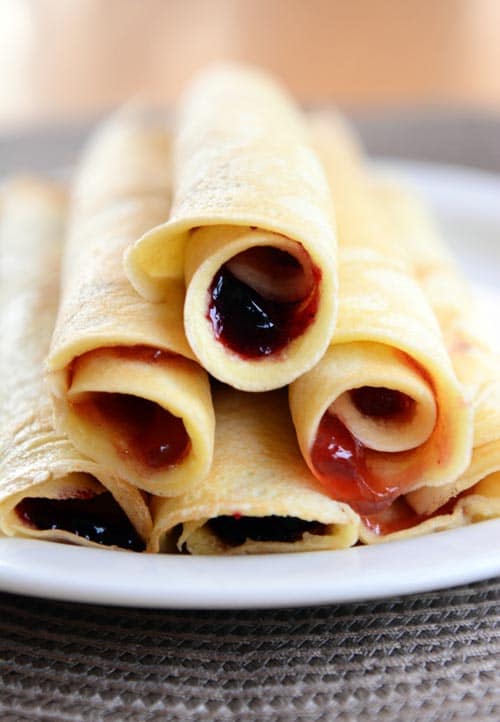 I know you are thinking these delightful rolled up pancakes look like a crepe and therefore must be a crepe. But can I gently ask you to think again? Because they aren't. A crepe. And let me tell you why.
First of all, while they are thin and tender and the method of cooking is similar to a crepe, the batter differs both in ingredients and texture and the resulting pancake is thicker and a little softer than a traditional thin, crispy-on-the-edges crepe. Second of all, they just aren't a crepe. I mean, I don't know what else to say.… Continue reading →
So you're in your den watching a bunch of hot men run around in little, tight-fitting shorts (I'm talking about the World Cup of course) when you eagerly unwrap your chocolate bar only to discover — OMG, BALLS! Literally, on you candy. It would appear that the white chocolate Milkybar has a penis-like shape imprinted on it. And everyone's been oblivious until this week, when London lawyer Robin Jacobs made the discovery and was overcome with strong feelings.
The image is supposed to depict an upside-down horse's head. But that's not what Jacobs sees. He told Metro, "What on… Continue reading →
As soon as I saw Janet's Cuban Beer-Infused Black Beans recipe I was sold. We had beer in the house that I earmarked for the recipe, limes on the tree (most went into limeade), poblano chillis that bemused me, and a love of spicy bean stews.
Janet highly recommend the roasted hatch chillis in the recipe that she made but I have never found there here in Melbourne. However for a short time, our local Coles supermarket had a huge range of chilli peppers. I bought some poblano chillis on a whim. I was wooed by the lovely deep green… Continue reading →


One of our favorite quick dinners is chicken marinated in Dale's sauce. It was one of the first things we grilled. We wanted to grill some chicken for lunch the other day and didn't have any Dale's. I whipped up this All-Purpose Marinade and we actually like it better than our beloved Dale's. It is definitely less salty than Dale's.
The marinade takes just a minute to whip up and uses ingredients you probably already have in your pantry. I like double the recipe and keep the leftovers in a mason jar in the fridge. We used this on chicken,… Continue reading →
This has been the Summer of Salads.  We've been eating salads for dinner at least once a week, and oftentimes more than that.  Now, before you roll your eyes at me for getting excited about salad, let me clarify that we've been eating ridiculously amazing salads.  Like this chopped grilled summer vegetable salad.  And it's chicken fajita counterpart.  And a balsamic steak and tomato salad with bacon and blue cheese.  And a Georgia-style caprese salad.  And a shrimp and okra po' boy salad.  And last but not least, this Thai Grilled… Continue reading →