I know many of you are still planning your menu for Easter this year, so today I'm sharing some of my favorite recipes that are perfect for Easter.
First, you'll want to get your Easter eggs cooked, colored and ready for the Easter bunny to hide. The best way to cook hard boiled eggs is in the pressure cooker.
We always start Easter morning with Citrus Cream Cheese Pull Apart Rolls. Everyone who has eaten these rolls has fallen in love with them. I'm sure your family will too.
They're a shortcut roll that starts with frozen roll dough, and… Continue reading →
Your slow cooker isn't just for soups, stews and main courses. These simple and sweet slow cooker cakes will blow you away at how easy they are to prepare.
Although these simple slow cooker cakes take a shortcut by using a box mix, there are plenty of flavorful mix-ins to make them taste homemade. If you love cake as much as I do, you're going to love these easy desserts.
1
Slow cooker carrot cake recipe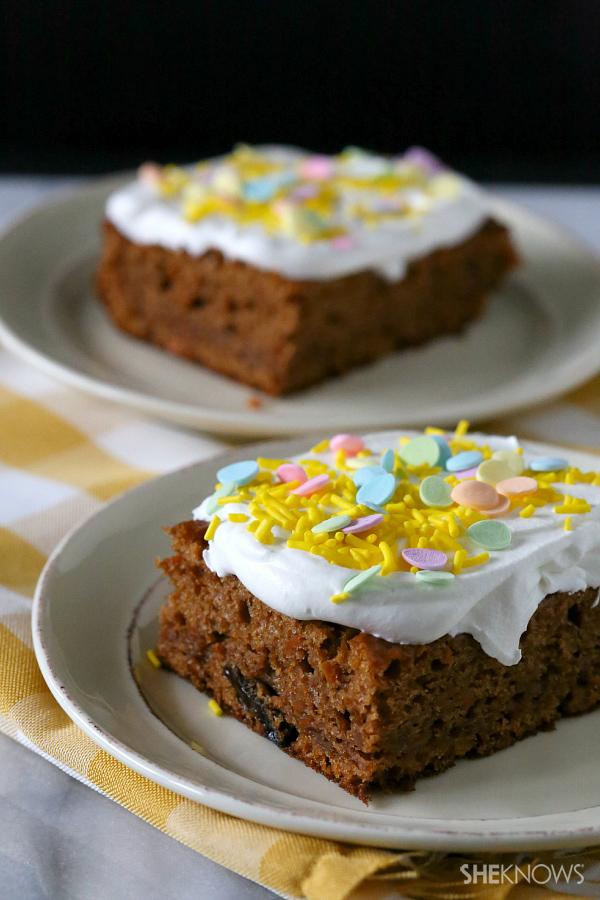 Carrot cake has always been one of my favorite cakes. We usually made it around Easter, and I would enjoy it with a giant… Continue reading →


Chicken Legs is a big fan of green peas. I don't make them often enough for him. It is because I really don't know the best way to serve them. Well, know I do. This recipe is great. It has tons of great flavor and didn't take a ton of work. The peas are seasoned with shallots, orange juice and bacon. You know it will be good because of the bacon!
We served these peas with the Orange Dijon Pork Tenderloin I shared last week. They were the perfect accompaniment to the orange marinated pork. Chicken Legs gave the peas… Continue reading →
Shrimp with Garlic Sauce Recipe

Shrimp with garlic sauce is a recipe that uses common Chinese ingredients to create a delicious meal that is both sweet and spicy. Most of the heat comes from the chili sauce and the sweetness comes from the sugar. This dish is so easy to prepare, the shrimp are stir-fried and then mixed with the sauce ingredients. If you want you could add some vegetables to the stir-fry such as broccoli. You can either choose to remove the shrimp tails or leave them on. You will want to… Continue reading →
When asparagus is in season, I buy a few bundles of it every week – we roast or grill it as a side, use it in various salads, pasta, and rice dishes, and eat an egg over it for breakfast or lunch.  However, I've never used it for soup.  But I've had plenty of other creamy pureed veggie soups, so why not, right?  And if it can be healthy and filling?  Even better!
This asparagus soup really just tastes like …. wait for it… asparagus.  With a silky, creamy, dreamy texture.  In lieu… Continue reading →
A market, a party, another market and a march. It was a weekend full of perusing stalls, eating (mostly) good food, listening to ukeleles and walking with like-minded people to declare that we wanted Australia to welcome refugees. Then I ate soup. Here are some photos.
Above are photos from the Walk for Justice for Refugees – Palm Sunday. I was glad to be there. We saw people we knew, listened, walked and had ice cream afterwards. Sylvia had a lovely time with a school friend we bumped into.
We went to the Fitzroy Market. Above is the nice lady… Continue reading →
Easy Strawberry Rhubarb Crumble
**Disclaimer: I was compensated by Lucky Leaf to develop this recipe. All opinions expressed in this post are alllllllllll miiiiiiiiine, yo. **
Soooooo, this is the first recipe I've blogged about with rhubarb in it…in almost 5 years. HOW CAN THAT BE?
I dunno, you guys. Guess I should hop on the rhubarb train. Actually, here's a question: do you even like rhubarb?
If you think you DO NOT like rhubarb, try downing it with some strawberries. You'll be a believer in no time. Especially if some sort of… Continue reading →