TGI Fridays Grill Glaze Recipe

This is a copycat recipe for the Jack Daniel's grill glaze at T.G.I. Friday's restaurant. It is not too late to fire up the grill for this amazing recipe. This grill glaze can be used on several different types of meat including steak, chicken and pork. You will want to brush this sauce onto whatever type of meat you prefer while it is on the grill. There is only 1 tablespoon of Jack Daniels in this recipe but it gets other amazing flavors from roasted garlic, pineapple and… Continue reading →
Now that school's back in session and after school activities are in full-swing, our evenings just got really busy, really fast.  So I'm always on the lookout for dinners that are healthy, quick and easy, and appealing to the whole family.
I was a vegetarian growing up, so I didn't eat a lot of Sloppy Joes.  And to be honest, even once I ate meat again, they didn't really seem all that appealing.  But after having these… boy have I been missing out!  Ground turkey, a great blend of sweet and savory seasonings, tomato sauce,… Continue reading →
Today I'm going to share with you the second half of my trip to Sweden with
Amanda (www.kevinandamanda.com)
.
We stayed at two castles, ate a truly farm-to-table meal and had some amazing pastries!
Day Five
Day Five was a lot of driving. We got up bright and early and drove to
Knack & Brack
.
Knack & Brack is a local crisp bread producer.
They gave us a tour of their production process and we got to sample the final product!
I loved the cute moose crackers!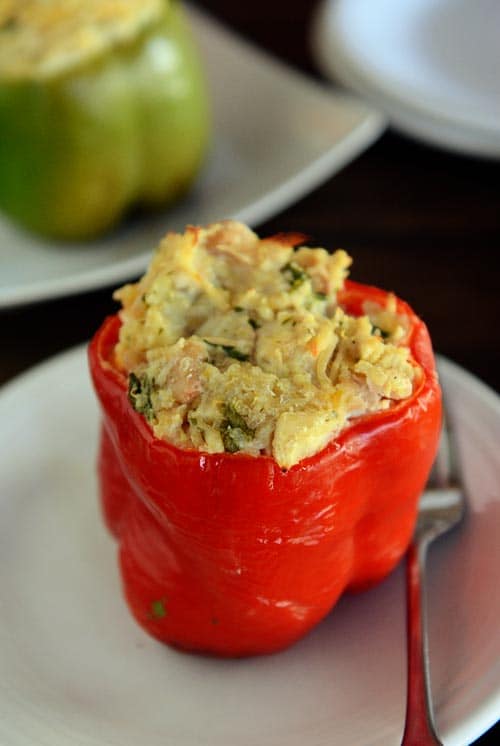 So. Stuffed peppers. Do you love or hate? Until about, oh, say Tuesday of last week, I would have to put myself in the big, huge camp of those who greatly dislike stuffed peppers. As in, I don't think in my long history of loving food that I have ever, ever craved a stuffed pepper. Know what I mean? Chalk it up to a combination of the ones I've had in the past always being green peppers (I like the sweetness of the other colors better, what can I say) and the not so enticing ground beef/rice/tomato mixture. It just… Continue reading →
Readers and friends often comment at how much work I put into cooking. Here is my secret. Leftovers! Yes I love to cook up a big bake or lasagne and let it feed us the rest of the week – if we run out I make a simple soup. So when I share this pasta bake which took quite a lot of time, bear in mind that the extra effort on one night meant very little effort for a few nights afterwards.
The crazy idea of spaghetti pie comes from Kate of No Meat and Three Veg. I saw her… Continue reading →
Thin Omelet with Caramelized Onions, Sautéed Mushrooms, Ham, Spinach, and Brie
by Pam on September 16, 2014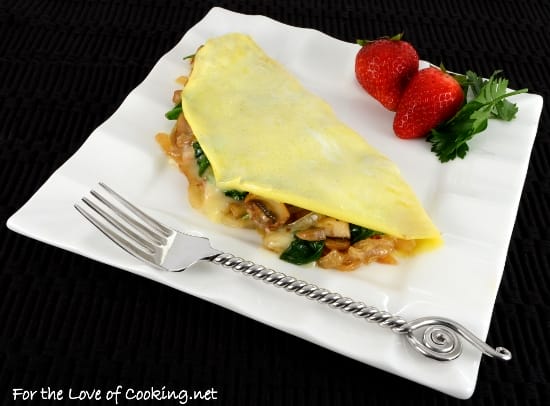 Do you ever create a recipe simply because you are craving something? While at the gym this morning, all I could think about is caramelized onions. Seriously. When I got home, I decided to make a thin (1 egg) omelet with caramelized onions, sautéed mushrooms, spinach, and a bit of the leftover ham and brie from the Brie, Ham, and Spicy Mango Jelly Grilled Cheese Sandwiches I made on Sunday. Although, it took 25 minutes to cook the onion, it was well… Continue reading →


Pizza is my favorite food. I could eat it every single day and never get tired of it. I saw this idea on Pinterest. I love frozen garlic bread, so I decided to give it a try. The key to this pizza is to flip toast over so the bottom gets toasted. If you don't flip the toast, it will be some what soggy. I used mini turkey pepperoni on my pizza, but feel free to use your favorite toppings. I made this for lunch and it was yummy! This would also make a quick dinner or after… Continue reading →