Roasted Portobello Burgers with Roasted Bell Pepper and Boursin Cheese
by Pam on October 22, 2014
My whole family loved the Panko Crusted Portobello Mushroom with Boursin, Braised Kale, and Heirloom Tomato so much I wanted to make another sandwich featuring portobello mushrooms. We recently had a delicious portobello burger at a brewpub that had roasted bell peppers and swiss cheese so I decided to make something similar. I blackened a bell pepper over my gas stove then steamed and peeled the charred skin from it. I oven roasted the mushrooms simply with a bit of olive oil… Continue reading →
I know, I know.  You cheesesteak purists are probably rolling your eyes at me.  A true cheesesteak is an art form.  And it doesn't include braised short ribs, wild mushrooms, or fancy cheese.  But you know… it's hard to argue with short ribs, wild mushrooms, and fancy cheese, right?  Right.
This recipe was born from a big bowl of cabernet-braised short ribs sitting in my fridge.  I made a big batch for a shower I threw over the weekend, and I wanted to do something noteworthy with the leftovers.  I thought about pasta,… Continue reading →
Before I went on my
world travels
with
Amanda
, I made tons of food for Chicken Legs to eat while I was gone. We grilled insane amounts of chicken, and I made a few soups as well. This was one of those soups. It was so delicious and super easy to make. 
I used dried beans and soaked them overnight. The next morning, I just dumped everything in the slow cooker and let it cook all day. Easy peasy! The chili tasted great. We topped with with some extra cheese, because you can never have enough cheese! After… Continue reading →
Crispy Chicken Poppers Recipe

These crispy chicken poppers are a delicious snack or dinner that is easy to prepare. What is great about these chicken poppers is that they are baked in the oven and not fried. The poppers are crispy because they are rolled in cornflakes. A lot of the flavor in this recipe comes from the parmesan cheese and seasonings such as garlic, paprika and ground black pepper. This recipe gets even better with the parmesan-ranch dipping sauce. The sauce is prepared in a blender and combines ingredients such as sour… Continue reading →
I saw it, and I knew I had to have it: the Pizza Cake. This is a recipe that's gone wacko viral, and you can see why. It's four pizzas stacked on top of each other and baked into an ooey, gooey, tomato saucey glob of happiness.
The recipe has appeared on numerous sites, including Pillsbury's by Shawn Syphus of IWashYouDry and on SoGoodBlog by Zorica L.
Want? Well, I wish I could share a slice with you, but I can't. I can do the next best thing, though. We're showing you how to make the Pizza Cake,… Continue reading →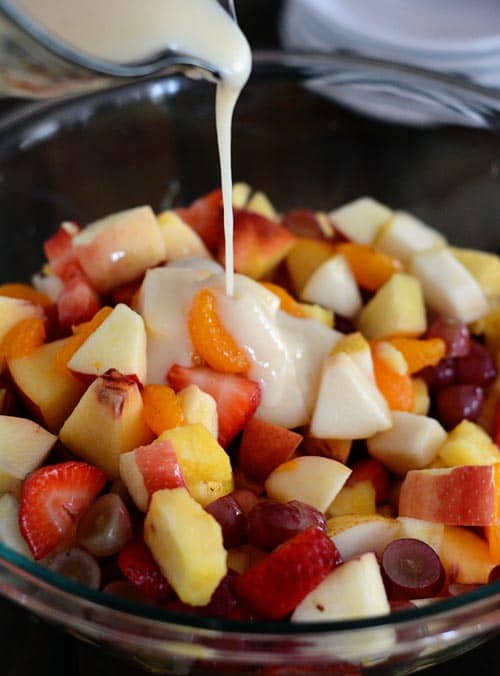 Let's be honest, side dishes can be brutal. I don't know how many times I've been asked to bring a fruit salad to a potluck or get together and I spend an inordinate amount of time agonizing over what I can do to make an ordinary fruit salad more spectacular than a bowl of cut up fruit. (And I can't bring this honey lime fruit salad to every single get together I ever go to – if I know one thing, it's that a girl needs fruit salad options.)
I've been hoarding this creamy fruit salad dressing for a while.… Continue reading →
There is great satisfaction in being organised in the kitchen. I can go for days and days without the right vegetables or snacks and then I suddenly switch into domestic goddess mode. It happened yesterday. I baked choc chip cookies and sourdough bread and put a lot of it in the freezer. I've done all the grocery shopping I need. I feel unusually virtuous. (Just don't look at my carpets. I'll do them later!)*
These chocolate chip cookies with smoked almonds and cacao nibs were actually a repeat of those I made on my visit to Adelaide. I feel… Continue reading →