Like eggplant, I feel like grapefruit is another love it or hate it food.  I happen to love it now, but for many years I was firmly in the "hate it" camp.  Grapefruit margaritas changed it all for me.  Now I eat them several times a week during peak season.  So while I love it now, I'm kind of snob about it.  It has to be a ruby red grapefruit, and it has to be from Texas.
Joey's a grapefruit-hater, but I may have converted him with this cake.  Margaritas are my gateway… Continue reading →
It's always fun to try new recipes, especially when the holidays roll around. This week on Pressure Cooking Today I posted a fantastic Shepherd's Pie recipe. Although I made mine in the pressure cooker, it would be easy to convert the recipe to a stove top recipe that you finish off in the oven. If you haven't made Shepherd's Pie yet, give it a try St. Patrick's Day.
Last year I shared a fun way to dress up Chicken Pot Pie for St. Patrick's Day. Individual pot pies with a clover in the middle of a tender, flaky crust, hiding… Continue reading →
Creamy Parmesan Chicken and Mushrooms over Mashed Potatoes


I went to the library yesterday and my daughter checked out 28 books. And 2 Barbie DVD's. When I was five, I don't remember the library ever letting me check out more than 5 items at a time. Or maybe that was my Mom's rule to make sure we didn't loose the library books?! I don't know.
We really are horrible at loosing library books though. Soooooo, good luck to me in finding all 30 items to return in 13 days when they're due.
I should have thought this through.
I on… Continue reading →
Sylvia's birthday fell on a school day this year. It meant 3 cakes yet again. One on her birthday, one at the party and a batch of cupcakes for school. She was so excited about her birthday this year that there were many plans. Cake. Party. Games. Party Bags. Etc etc etc. It will take a few posts to write about her birthday. Let me start with the cakes for the big day.
Sylvia's favourite breakfast is banana oat pancakes so I flipped pancakes while she opened her birthday presents before school. (We didn't eat them all so I put… Continue reading →
Almond croissants are my most favorite thing in the world. It is really hard for me to pass one up, and I have had my fair share. The one in the picture below was particularly delicious. Wes and I had a very rare day date on President's Day. He was off (federal employee) and the kid's had a snow make up day. We got the great idea to see a non-kid movie while they were at school. The night before we bought tickets and we had the pick of the theater when we picked out our seats.
We stopped for… Continue reading →
Baked Egg with Bacon, Asparagus, Tomato, and Extra Sharp Cheddar
by Pam on March 6, 2014
I was in the mood for a baked egg this morning for breakfast. I looked in the refrigerator and found a leftover piece of bacon from my kids' breakfast, some extra sharp cheddar, and a bit of asparagus from last nights dinner. I also threw in a few slices of grape tomatoes because I love them with eggs. I served this baked egg with toast to dip into the yolk. It was a terrific breakfast that filled me up and made me smile. I… Continue reading →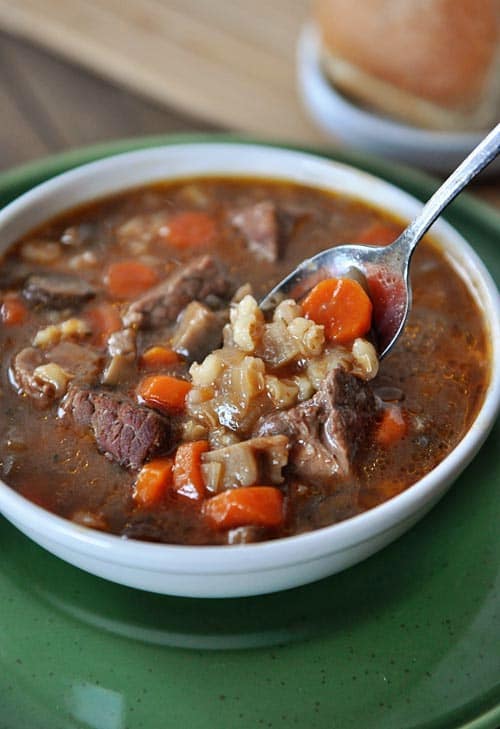 By now I hope you know that my recipe posting philosophy is pretty simple: I only post recipes that are the best of the best. Be assured that for every recipe that makes it here, there are at least five or six I've made that just don't make the cut. Brian has this look he gives me when we are eating dinner and I know that he knows that I need to know that the recipe probably isn't worthy of the blog and most definitely should not go into our personal meal rotation (but bless his heart, that man eats… Continue reading →