*This is not a sponsored post! I pay for these clothes on my own. However, this post does provide referral links for new sign ups which gives me a little credit to go towards my next box. 
Ahhh, Stitch Fix Box….we meet again! Here's what I got this month:




Item numero uno: Delany 3/4 Sleeve Ikat Print Dress- $ 58. I wanted to like this, but the waistband was elastic making extra fabric hang over the top. Even though I liked the print, I didn't really think this was flattering, so I sent it back. 




Second item….this… Continue reading →
I've teamed up with Hershey's to help introduce their new spreads. Hershey's now offers a chocolate spread, a chocolate almond spread, and a chocolate hazelnut spread. These delightful spreads are slated to be in stores starting this weekend.
I'm a lover of chocolate hazelnut spreads, so I was excited to try Hershey's new spreads. They sent me a package with all three spreads and lots of salty snacks to explore new spreading possibilities. I had been using chocolate hazelnut spread in recipes and spreading it on toast (okay and eating it right out of the jar on a spoon),… Continue reading →
Earlier this fall, when I made these apple cider caramels, my pal Annie and I were texting about their awesomeness.  Predictably, our texts turned to all the different treats we could make using them, and when Annie mentioned stuffing them into a browned butter cookie, I knew I'd be making them ASAP. 
As a general rule, I'm not so much into turducken desserts, but I am head over heels in love with these cookies.  They are the perfect balance of sweet and salty, and chewy and crispy.  The center is obviously gooey and sweet from the… Continue reading →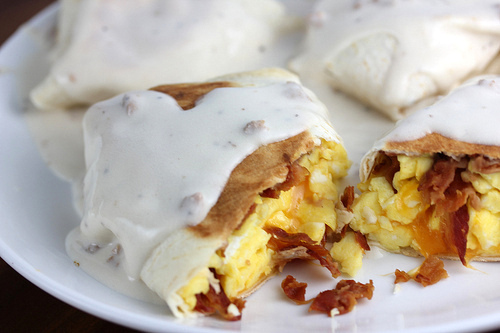 This recipe is the breakfast version of wet burritos. These smothered breakfast wraps are loaded with crispy bacon, scrambled eggs and cheese, and then topped with sausage gravy! To save time this recipe uses premade sausage gravy but if you would prefer you can make your own. You can add all kinds of different breakfast items inside the burritos such as sautéed green pepper, sautéed onions, and cooked breakfast sausage links. These wraps make a great breakfast or can be served for dinner as well. If you want to get the bacon perfectly crispy, you can view my tutorial on… Continue reading →
Veggie Mini Frittata with Asparagus, Tomatoes, Spinach, and Extra Sharp Cheddar
by Pam on December 5, 2013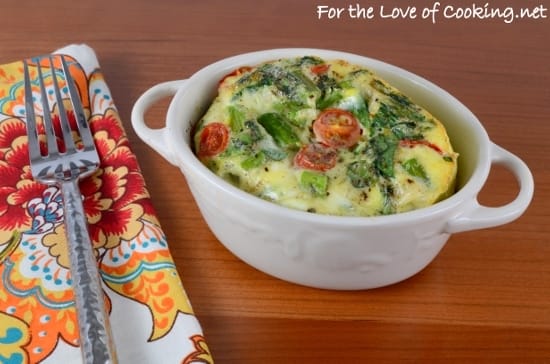 I wanted something light and simple for lunch today so I decided to make a veggie mini frittata. I grabbed some eggs, asparagus, spinach, and extra sharp cheddar from the refrigerator and found some grape tomatoes on the counter. This frittata was light, fluffy, and so delicious. Mini frittatas are one of my favorite meals because they are simple, healthy, and a terrific way to use up extra ingredients you have on hand.
Preheat the oven to 350 degrees.  Coat a mini… Continue reading →
You will have three reasons to love me after reading this post.
Reason #1 — ONE OF YOU IS GOING TO RECEIVE A $ 100 VISA GIFT CARD! Read on..
Reason #2 — The following PAM Holiday Tip is going to help make your life easier this holiday season! The time of year is upon us when we become stretched and stressed. Gifts, parties, entertaining, cooking, baking, wrapping, spending money and on and on. It gets to be so much, doesn't it?! Well I am here to help! I can offer one little tidbit that will help you immensely in… Continue reading →


These cupcakes taste like Christmas. Well, that is if you think Christmas tastes like chocolate mint. We do, so these cupcakes take like our Christmas!
These cupcakes are easy to make. I doctored up a box of cake mix and make the buttercream. I don't mind cake mix cupcakes, but I am not a huge fan of canned frosting. I think you can getaway with the cake mix if you make your won frosting. This frosting is out-of-this-world delicious! It isn't overly sweet and tastes just like my favorite bakery. It is worth the little bit of extra effort.
These… Continue reading →